Living room wellness on 400 m²
Our new karuun | Heimat SPA: the world's first wellness area with the innovative wood material karuun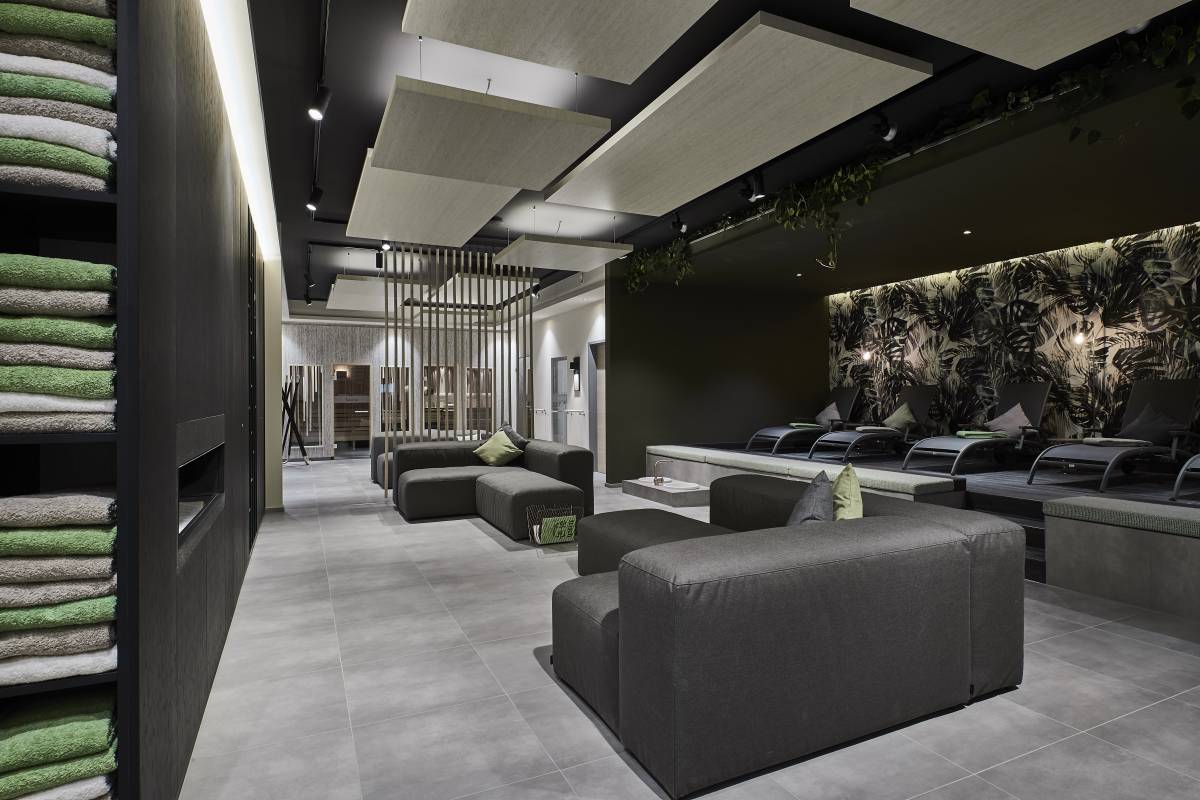 enjoy with all senses
Modern, clear architecture meets hip, urban design and innovative, sustainable materials. The new karuun® | home SPA is unique. Rest and relaxation are guaranteed: Lean back, relax and simply be happy. You will find regeneration, peace and well-being on more than 400 m² on two floors. Enjoy the revitalizing powers of heat and water and recharge your batteries. Reawaken your senses and let your soul smile. Treat yourself to a break from the stressful everyday life. Bathe in happiness and in the first Allgäu beer bath. Our wellness area has various saunas, brine relaxation room, infrared cabin, steam bath, adventure showers & ice fountain, relaxation rooms, wooden tubs for bathing treatments, foot baths, Sway pendulum loungers, an outdoor area with a view of the castle park, drinks buffet and much more. The Kisslegger beer bath in particular is unique in the region. Welcome to your new "wellness living room".
Our two saunas: boost your immune system and stay healthy
Well-known and popular, not only in the far north: the Finnish sauna, which really makes you sweat with a dry heat of 85°C. Due to our regular automatic infusions, the temperature is sometimes heated up to 100°C. After sweating it's time to cool down and refresh yourself, either in our adventure showers or at the ice fountain. The outdoor area on the 1st floor is also available for you to relax. In our various relaxation areas you can treat yourself to a break between sauna sessions and enjoy the flair and ambience in our karuun | home spa
If you like it a bit milder and feel more comfortable with higher humidity, you are in good hands in our sanarium. 60° C and a humidity of 60% ensure a pleasant, gentle warmth and an optimal sauna climate. Exciting infusion aromas and essential oils revitalize your body and ensure deep relaxation. We recommend 2-3 sauna sessions of 10-12 minutes each. Please note that our sauna area is a nude area.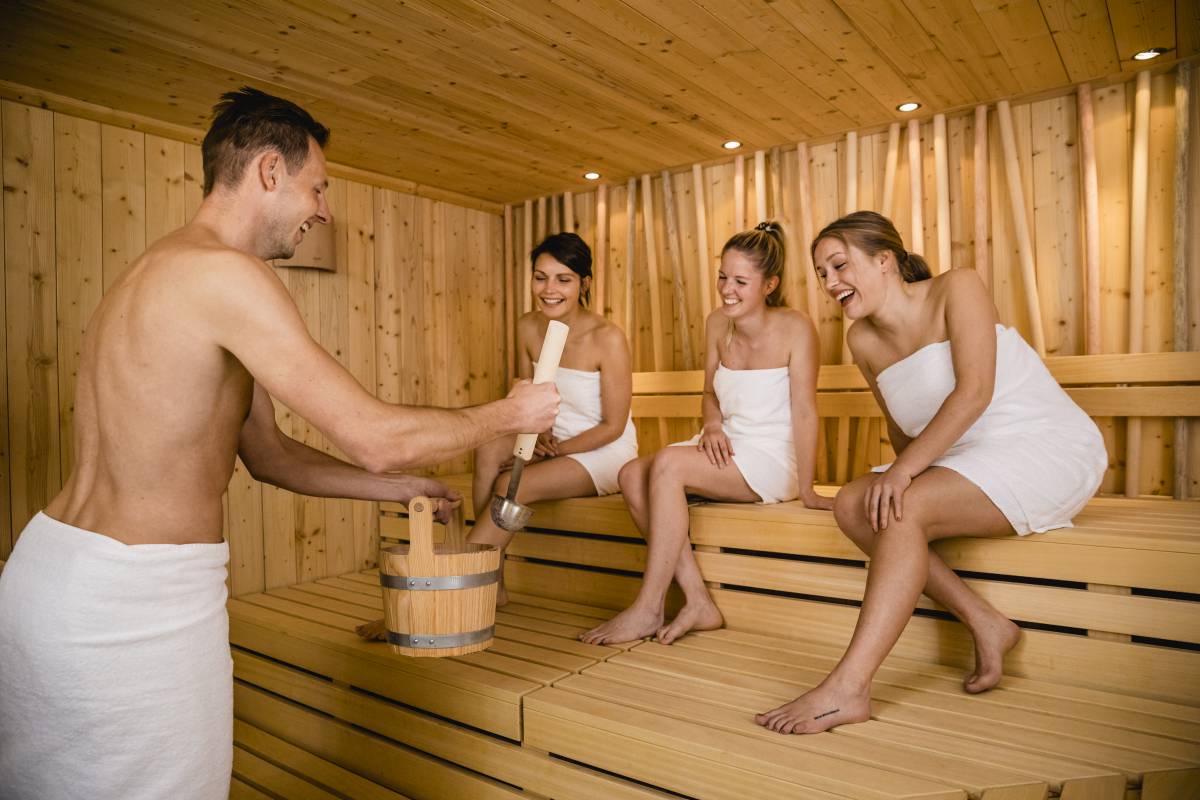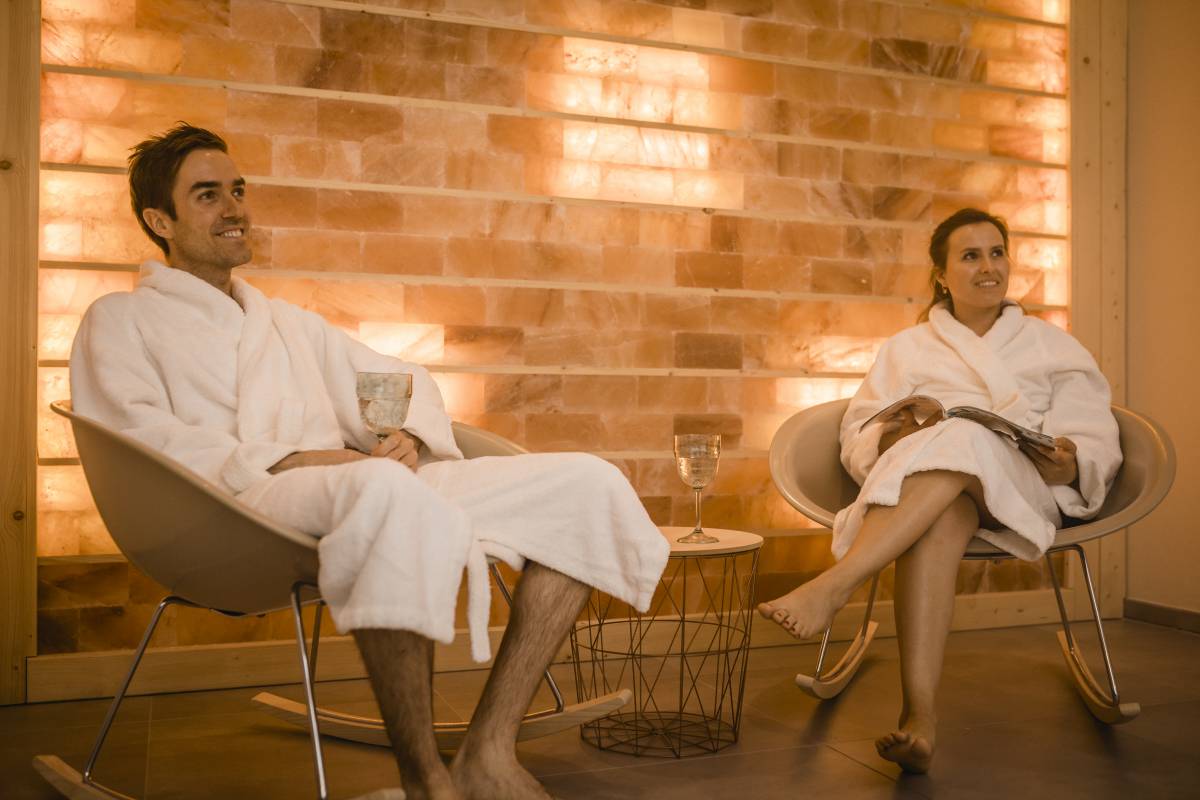 Breathe deeply and feel the salty power of the sea
It is well known that a stay by the sea is particularly good for the soul and healthy for the respiratory tract. But such a sea is not always nearby. And our Swabian Sea, Lake Constance, is beautiful, but filled with fresh water. So we simply brought the salty sea scent into our spa area.
In our brine relaxation room you can experience sea salt as a particularly fine salt aerosol of the highest quality. The salt is distributed throughout the room and aims to thoroughly clean the airways down to the finest alveoli. The brine relaxation room is particularly effective when used for at least 45 minutes, especially for people with hay fever, asthma, bronchitis, cystic fibrosis or chronic lung diseases.
Light therapy as a wellness oasis
The room temperature in our infrared cabin is around 40°C. The pleasant infrared rays warm up the body, promoting well-being and stimulating the body to relax. Metabolism, immune system and blood circulation are also stimulated. This promotes healing processes in the body.
A visit to the infrared cabin for just 20 minutes will help you to recover more quickly, especially if you have back and joint pain, and is also a key to faster regeneration after sport.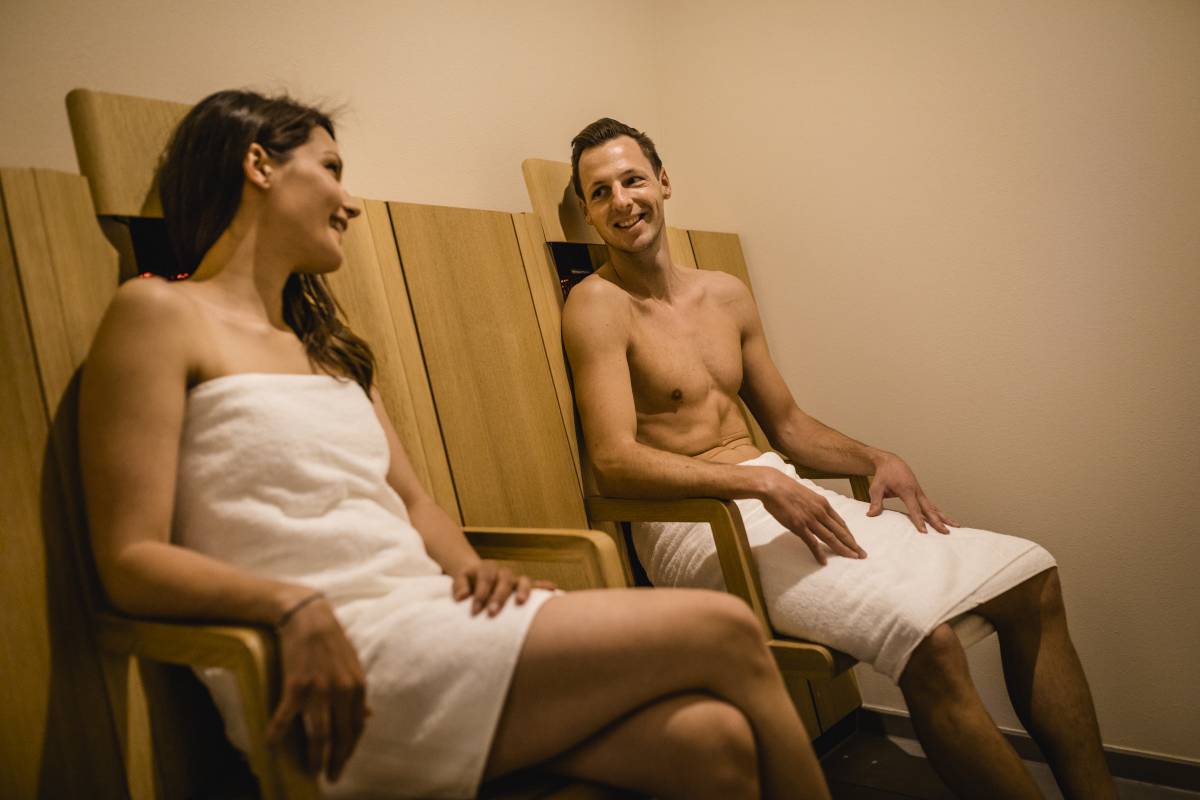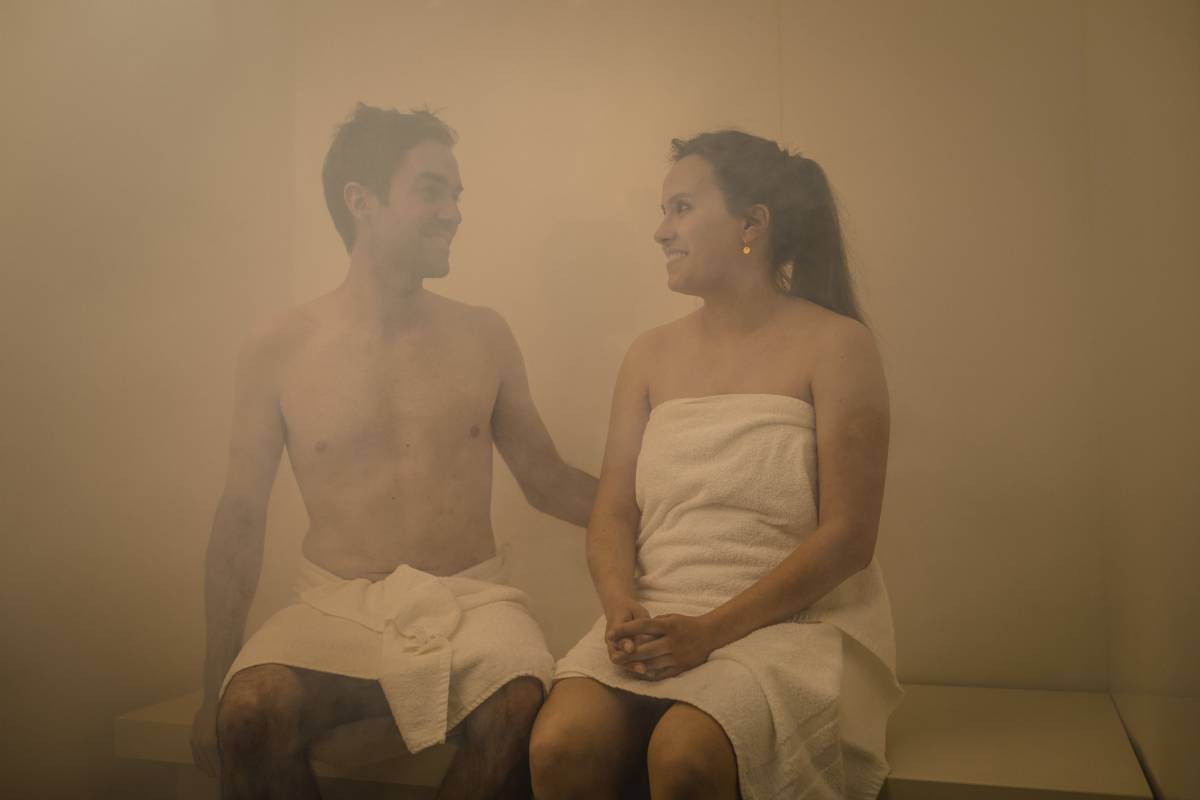 Our steam bath: ideal for sauna beginners
Our steam bath is a special type of sauna, as it is also ideal for sauna and wellness beginners due to the lower temperatures compared to our other two saunas. By evaporating water at a low temperature of 40° C, you will feel many positive effects on your health: you strengthen your immune system, promote blood circulation and relax your muscles all over your body. Due to the high humidity, the body does not sweat as much as in a dry sauna.
We recommend staying in the steam bath for between 15 and 20 minutes with a maximum of 3 sessions with a 30-45 minute break each. For reasons of hygiene, we would like to ask you to use a towel to lie on.
Adventure showers & ice fountain: Cool off and refresh
Whether cold or warm water: our illuminated experience shower is the place for water freshness with all its facets. After and between your sauna sessions, you can cool down and refresh yourself in our experience showers and the ice fountain filled with crushed ice.
The adventure showers refresh you with wonderfully soft water droplets from the rainy sky. Feel like you're in a downpour in a summer thunderstorm. Or feel the power of a waterfall with our flood shower. At the same time, the rippling, bundled jet of water gently massages your back. With our light, soft water mist you will experience a light water spray.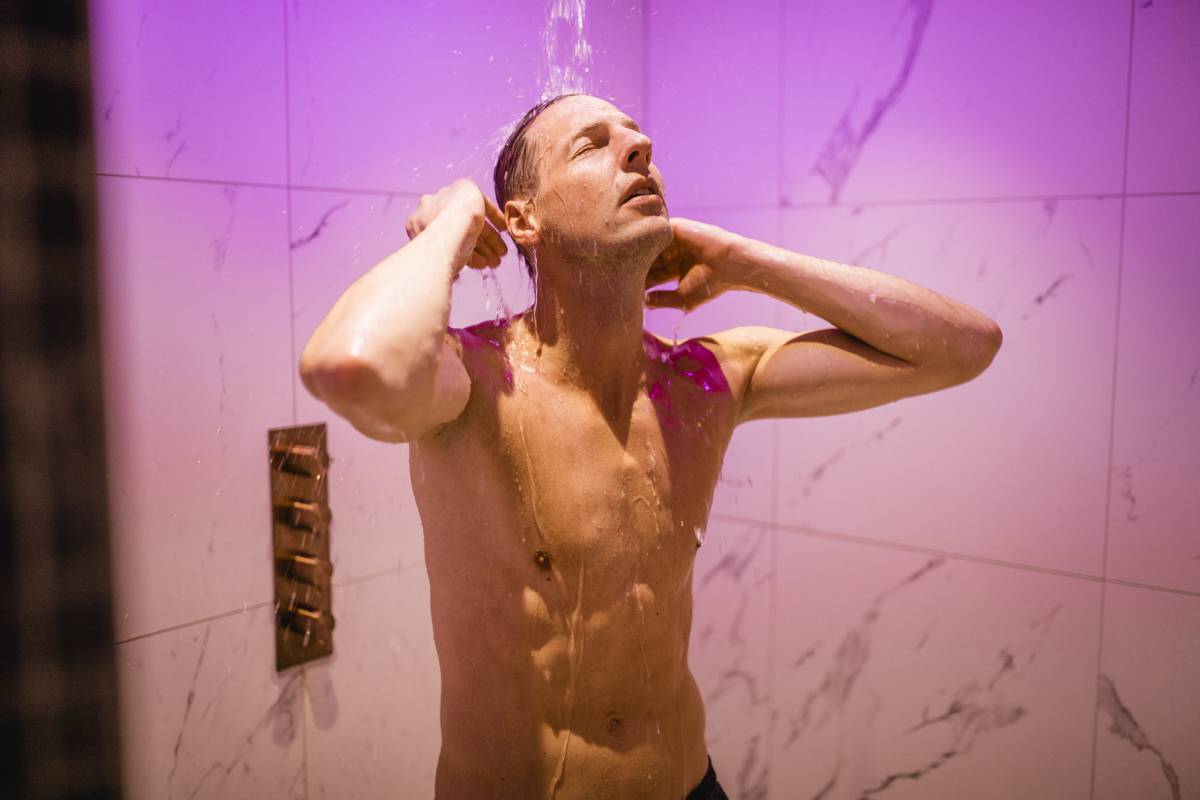 "Sanitas Per Aqua"


Arrive, take a deep breath and relax. We have prepared everything for you.
Yours, Family Karrer-Eisenhöfer